Since our previous article in April 2018, the business environment in France has experienced positive change with a decrease in unemployment rate and an increase in purchasing power, following the 'gilets jaunes' disruption. The Economist Intelligence Unit forecasts modest GDP growth to pick up to around 1.5% for the foreseeable future. In terms of tourism, Paris enjoys an exceptionally well-balanced mix of business and leisure demand, which allows the City of Lights to have both a broad seasonality and strong average rate. Paris has remained, alongside London, one of the two most desirable destinations for hotel investment for more than a decade.

ECONOMIC INDICATORS – FRANCE
Sources: Economist Intelligence Unit; OECD
Tourism Demand
Visitation to Paris is robust and has remained broadly static at 15-16.5 million over the past ten years. After the terrorist attacks in France in 2015-16, figures for 2017 indicated a recovery and 2018 saw a further increase in visitation thanks to the international market (accounting for approximately 60%), especially with the return of US visitors – the number one source country – and thanks to city-wide events such as the 2018 Ryder Cup. However, the end of 2018 and first months of 2019 were challenged by the 'gilets jaunes' movement. The scenes of violence relayed by the media caused considerable harm to the destination. Visitation and bednights from the Middle East, Asia and South America decreased in the first quarter of 2019. The second quarter of 2019 showed signs of recovery in hotel demand thanks to the Women's Football World Cup and the Paris Air Show.
VISITATION (000s)

Source: Paris Tourism Office
Hotel Performance
After the terrorist attacks in 2015, the performance of hotels in Paris fully recovered in terms of RevPAR in 2018, but didn't reach the 2012 occupancy peak in the high 80%s. Occupancy suffered at the start of 2019, especially in the luxury market with the decrease in international visitors;
The average rate in Paris was the main driver of the recovery, but still a long way from the 2012 peak. Paris's average rate performance remains, however, at the top end in Europe. RevPAR showed double-digit growth in 2018, but was subdued in the first half of 2019.
KEY METRICS*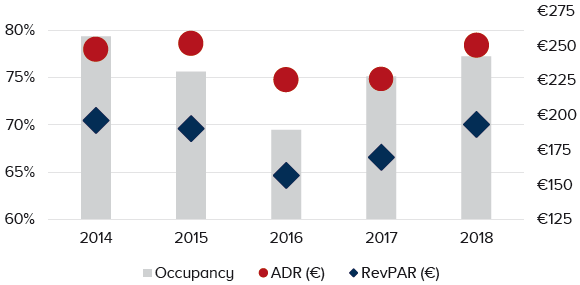 *Sample of approximately 15,600 rooms
Source: HVS Research
Hotel Supply
The supply of rooms in high-end hotels in Paris increased significantly since 2012. As of the end of 2018, Paris had 1,600 hotels providing some 82,500 rooms. In 2018, hotel openings included the repositioned 128-room Hotel Lutetia; the 54-room Fauchon, known worldwide for its high-end food store; the 76-room Hôtel de Berri, a Luxury Collection Hotel; and the first Motel One in Porte Dorée with 255 rooms. In the first half of 2019, Paris saw the opening of the 25hours Hotel Terminus Nord, the first JO&JOE Paris-Gentilly and the reopening of the 164-room Hotel du Louvre (Hyatt).
Going forward, Paris has a fairly substantial pipeline with more than 6,800 rooms (8% of existing supply) coming to market in the next five years, with the most relevant shown in the table opposite. Luxury and five-star properties are likely to feel the most pressure, as a third of the new supply falls into this category. Around half of the new supply will be located outside of central Paris. Since our previous article, new hotel opening announcements include the first Canopy by Hilton in Trocadero (123 rooms) at the end of 2020 and the 210-room CR7 Hotel Paris in 2021.
HOTEL PIPELINE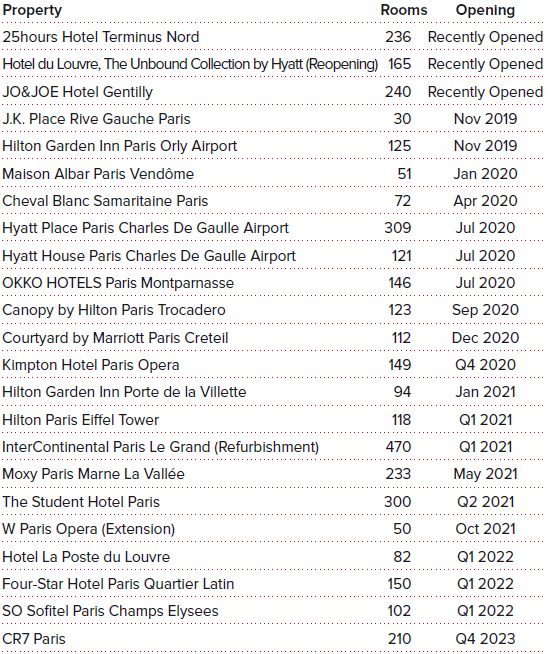 Source: HVS Research
Investment Market
Paris's hotel investment market has remained liquid and sought-after, despite the recent turmoil. French REIT Gecina sold its entire portfolio of five hotels to US-based Angelo Gordon for €181 million (€222,000 per room) in June 2019. In 2018, the most significant single hotel transaction was The Westin Paris – Vendôme, sold by Singapore sovereign wealth fund GIC to Henderson Park for €550 million (€1.3 million per room, the highest value per key European transaction in 2018). For the latest value trends, please refer to our annual European Hotel Valuation Index, which showed that Paris maintains by a significant margin the highest value per room compared to other European markets.
HOTEL TRANSACTIONS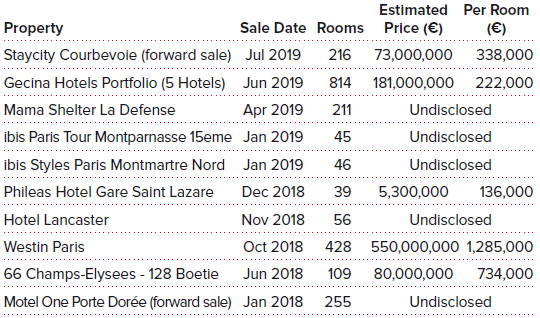 Source: HVS Research
Outlook
Paris remains a favourite for investors with no discounts having been factored into acquisitions, despite challenging events over the last few years. Paris is still one of the most attractive markets in Europe and, once again, achieved the highest price per room in our HVI. The general resilience and strong fundamentals of the Paris market have led us to consider that a continued improvement in performance can be expected for the rest of 2019, despite a rocky start to the year. The organisation of large events such as the 2023 Rugby World Cup and the 2024 Summer Olympic Games will certainly help maintain, and even improve, Paris's strong performance.
VALUE TRENDS

Source: HVS Research
Dayk Balyozyan is a Senior Associate with HVS's London office. Dayk holds a Master's in Management degree from Toulouse Business School, with a specialisation in Corporate Finance. Prior to HVS, Dayk worked in management consulting, investment banking and hospitality in Paris, New York and Dubai. Since joining the London office in 2015, he has worked on valuations, feasibility studies and consulting mandates throughout Europe and Africa. Tel: +44 (0) 20 7878 7724 dbalyozyan@hvs.com
Sophie Perret is a Director at the HVS London office. She joined HVS in 2003, following ten years' operational experience in the hospitality industry in South America and Europe. Originally from Buenos Aires, Argentina, Sophie holds a degree in Hotel Management from Ateneo de Estudios Terciarios, and an MBA from IMHI (Essec Business School, France and Cornell University, USA). Since joining HVS, she has advised on hotel investment projects and related assignments throughout the EMEA region, and is responsible for the development of HVS's business in France and the French-speaking countries, as well as Africa. Sophie completed an MSc in Real Estate Investment and Finance at Reading University in 2014. Sophie is also a certified surveyor and a member of the RICS. For further information, please contact: sperret@hvs.com or +44 20 7878- 7722 (Work)
Logos, product and company names mentioned are the property of their respective owners.